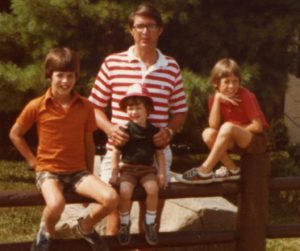 Banks Joseph Henry Banks Jr., M.D., age 77, passed away on Sunday, October 25, 2015 at home.
He received his undergraduate degree from Ohio Wesleyan University and his doctor of medicine from The Ohio State University College of Medicine. Dr. Banks was board certified in pediatrics and was a fellow in the American Academy of Pediatrics. He began his profession as a pediatrician joining Northwest Pediatrics in 1970 and continuing through 2012. In addition to practicing at Northwest Pediatrics, he was a consultant to the Columbus Developmental Center from 1971-1981 and in 2007 was voted top five pediatricians in all of central Ohio. He was on the medical staff of Nationwide Children's Hospital, having served as chief of staff when it was Columbus Children's Hospital.
Dr. Banks was passionate about making a difference in the lives of his patients with ADHD and providing guidance to the parents of those children. In 1987 he co-founded the C.H.A.D.D (Children and Adults with Attention Deficit Disorders) support group. He was a member of St. Andrew Catholic Church, the Scioto Country Club, Heritage Golf Club, American Academy of Pediatrics and the Ohio Medical Association.
He is preceded in death by his parents Joseph and Sarah (Snyder) Banks, son Jonathan Banks, sister Linda Udvari, and brother-in-law David Englehart.
He is survived by his second wife, Diane (Casanta) Banks; sons, Joseph (Sheryl) Banks, III, Thomas (Giselle) Banks and Scott (Kelli) Rhyan; grandchildren, Abigail Rhyan and David Banks; sister, Anne Englehart; sister-in-law, Mary Lou Casanta, and brother-in-law, Frank Casanta; many nieces and nephews.
His family will gather with friends and relatives on Friday, October 30, 2015 from 2-7 p.m., at the John Quint Treboni Funeral Home, 1177 West Fifth Avenue, Columbus. His funeral mass is at 10:15 a.m. on Saturday, October 31, 2015 at St. Andrew Catholic Church, 1899 McCoy Road with entombment to follow at Resurrection Cemetery, 9571 N. High Street, Lewis Center.
Dr. Banks volunteered his time to helping the homeless with the care of their animals. In lieu of flowers, donations in his name are preferred to Faithful Forgotten Best Friends and The Ohio State University Comprehensive Cancer Center – Arthur G. James Cancer Hospital and Richard J. Solove Research Institute. Condolences may be sent via www.johnquint.com.